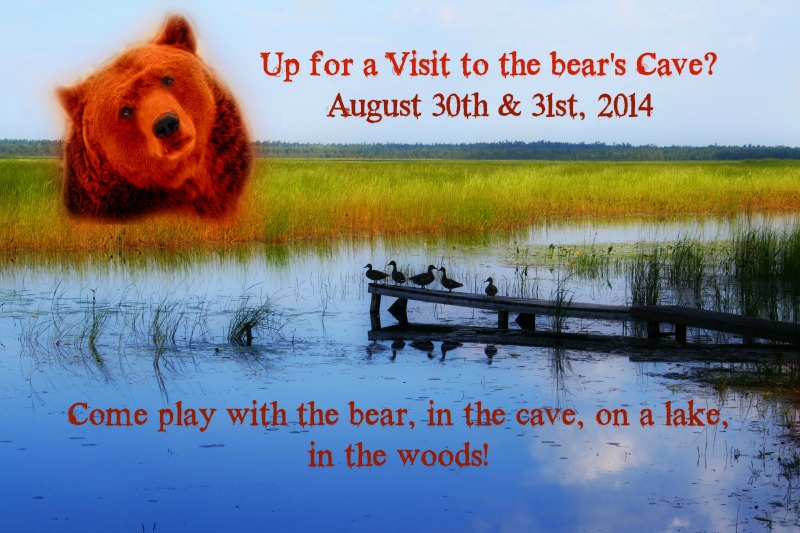 August 30th & 31st, 2014
Come play with the bear in the cave on a lake in the woods!
Saturday August 30th
10:00 am – 11:00 am arrival time for all.
Continental breakfast available thru that period, and introductions of all who are participating.
11: 15am day begins
Depending on how many register… that will guide me to form what will be covered at that time. This will be e mailed out to participants first week of August.
4:00 pm break and feast (supper) preparation
5:00 pm -6;30 pm feast (supper)
7:00 pm – 10:00 pm Bonfire, drumming, sharing and healing work
Sunday August 31st
10:00 am thru 2:00 pm gather for healing work and arranged sessions
Continental breakfast will also be available.
Cost for Food is $30 per person for entire weekend.  Includes Feast and 2 Continental Breakfasts. Coffee/tea/juice/water included and if you have a special request contact me ahead of time, and i will attempt to accommodate.
**Also if you want a private session with me over the weekend it will be n additional $20
Alcohol Free Zone
Many Blessings and hope to see ya'll soon!
~ bear Medicinewalker
*The Following are some of the hotels/motels that are in the area close by.
**If you prefer to camp, I do have room for 4- 6 smaller sized tents around the outside of the house here, and would happily allow that. I simply need you to contact me ahead of time so you have space marked for you.
Tawas Inn and Resort
1000 E Bay St, East Tawas, MI 48730 • (989) 362-2581
http://tawasbaybeachresort.com/
East Tawas Junction B&B and Chickadee Guesthouse
http://www.east-tawas.com/index.htm
514 W Bay St, East Tawas, MI 48730 • (989) 362-8006
Bambi Motel
1100 E Bay St, East Tawas, MI 48730 • (989) 362-4582
Harborview Motel
1008 W Lake St, East Tawas, MI 48730 • (989) 362-9000
BAY INN TAWAS, Tawas City
1020 West Lake St, Tawas City, MI 48763 (989) 362-0088