This is a place to come and connect, learn and share our humanness. To take a moment and perhaps smile, think outside the box…
it is all what I have been assigned by God Creator to help people understand. Sometimes in our everyday life we often forget to just simply stop and appreciate all that is.
With that in mind, I invite you to become a participant of life. The Wolf and the bear Network was created to share and inspire cultural awareness. To look, listen and share what our Ancestors have left with us all….
So I encourage you to take a moment to walk through my virtual cave, see all the wonderful things and people that are here, and when you do… just take a deep breath in and smile!
Many blessings,
~ bear Medicinewalker
A Non Traditional Healer, Empath and Medium…with over 25 years of experience in working with Spirit and People. Let's bridge the gap as We Are All Related.. We All Walk a Human Path… We Are all Humans Perfect in our Imperfections. Join me and the Network to Help Bring About Positive Change and Balance through the sharing of Community and Healing Energies and Prayer!
We only need to quiet our selves to hear what "Spirit" shares and to learn about each other.
I am many things to many people.  But mostly…I am bear. I am guided to do my work by the Creator with  assistance from the Grandmothers and Grandfathers.  I grew up in Detroit and have lived in Michigan all my life, but have traveled far and wide.  My work is done with the help from the  Guides that work with me.  Nothing is ever the same, ever evolving.
I  work with the Angels, and with all the Spirit Realms that love us. It is powerful and humbling at the same time.
This is a time of Change. This is a time to remember who we all are and have been. Walk with me as we find the common grounds we all have from beyond birth.! Lets sit and listen as the Ancestors share and guide you to the answers you are seeking.
Blessings to You All,
~ bear Medicinewalker
Life Coaching, Spiritual Readings, Healing work, House Blessings, Grief Counseling All available by request.
****Also house group readings can be arranged, if interested please feel free to contact me so that we may discuss possible arrangements .
Reading Costs
Session is $100 for the hour,  $50 for 1/2 hour,  20 minutes $40. Sessions can be done through Skype, Phone or arranged at *my home*, or possibly visiting you (Michigan residents) please feel free to contact me to see what works better for you.   I have also added recently Subscriber rates for people who want regular sessions, minimum will be three months for subscription.
****(See Below for more info and signing up.)
****Also if you are unable to pay a fee please inbox me and we can see about making other arrangements to accommodate you and your needs.
Blessings
~ bear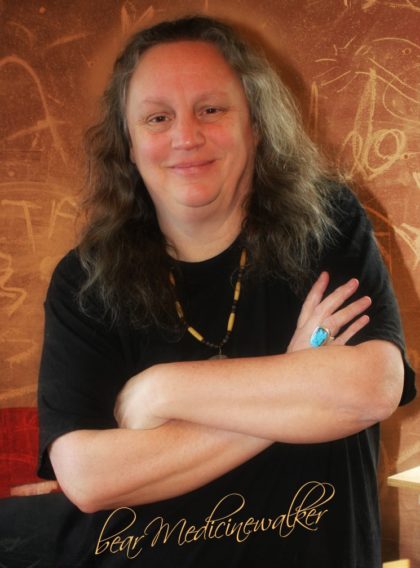 One Time Sessions
AGREEMENT FOR SERVICES RENDERED:
It is very important to understand that our future is always changing and at any given moment we can change that by our choices. You should never live their lives exclusively by what comes through in a reading. Rather use the information or communication that is shared as a guide to improve their current situation., or become who you are meant to be.
bear Medicinewalker cannot be held liable for any action taken, or lack thereof, based upon any such information or communication following services rendered.
bear Medicinewalker is not, nor does she claim to be, a medical professional and does not intend said information or communication to replace consulting a medical professional who is able to diagnose, prescribe, treat or cure any ailment or affliction, physical or psychological in nature.
Any client who seeks her services acknowledges that he/she has read and understood the terms of this agreement.
Client Confidentiality Guarantee All personal information you provide is kept private and confidential, as is all information exchanged during our sessions. The relationship between myself and you the client is based on trust, integrity and discretion- all beliefs to which I strictly adhere.
Also please note that I value and respect your time, please do the same for me. Be prepared to be there at your appointment time. I understand and honor emergencies, but please note I will only reschedule once if you simply forgot the appointment time. My time is just as valuable as anyone elses.