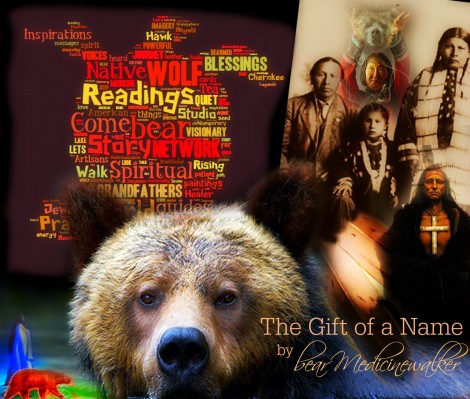 Native American naming traditions date back to our Ancestors. They are often similar but the customs sometimes were slightly different tribe to tribe. The names would often be inspired by nature itself, whether it was the Winged Ones, the Four Leggeds, the Elementals, or an event that was taking place at the time of birth.
Tribes place great power to their names only using them during times of ceremony or special events, and not using that name to refer to people at any other time. (Thus calling them Mother, Father, Son etc. in place of that name.) Some tribes what is called a "naming trail" when a child is given one name at birth and later on in life is given another through Vision Quests, from a Tribal Elder then even farther into the earth walk a name that represents their life. It is even shared that Chief Sitting Bull was called "Jumping Badger" as a young boy, and nicknamed "Slow Jumping Badger " because of the extra time he took in doing things.
The Cherokee often took no surname until around the time of the Civil War. If they served during that war the army required two names and either "gave" them a name or they chose one for themselves.
In today's world we often name our children for people who are related/not related to show respect or to remind us of how special someone was in our own lives.
Why you might ask am I writing about this today? Well it is because someone asked me the other day to tell them how I received my name…my Native American name. So I thought I would share it with you all as well.
For a good number of years I worked at Detroit's Children's Hospital in Michigan as a Decentral Tech in the I.C.U., Hemoc and Cardiac units for the most part. One year we had a young man who was 13 years old, entered the ICU on a Sunday afternoon as a critical patient due to a car accident. He had been a passenger in the rear drivers' side of the car, a car which had been struck by a drunk driver. His injuries were severe and he was placed on life support. As I came to know the family over the next months, I learned more of my culture and a whole lot about Faith and the Medicine way of the Native American Ancestors. The family was old school, living the "Red Road" the way our Ancestor's did, and the way that we should as we each walk this earth today and forward. For me those months were transforming and humbling.
After 5 months in the I.C.U. and countless brain activity scans, the medical world felt it was time to remove the life support systems. His Grandfather thought otherwise, and while they fought with the red tape, he continued to practice traditional customs and prayers, all of which I came to be part of without even realizing. I had unknowingly become a warrior for this young man.
Working afternoons I often would complete my required work and then would be able to assist in whatever way the unit needed me to. For this family I came to assist being mediator for herbal remedies and topicals that were being used by the grandfather on his grandson. We had many long talks, and we had both come to agree that the boy was between worlds. It was the Creator's way of allowing him to heal. For that to continue to occur, everyone needed to have that same Faith that he would awaken from the coma when the time was right. During the 6 month in ICU the time was right. He awoke much to the medical staff's disbelief…he indeed awoke. I recall looking over at his grandfather when it happened, the twinkle that lit his eyes and the smile that he and I shared with each other. Words were not needed. Within a couple weeks he was moved to the rehab floor.
A few more months went by and I had lost touch with the family since they were not on the units I worked, until one afternoon I ran into the young man's grandfather in the elevator. We smiled and hugged each other. When the elevator arrived at the floor he was getting off on he reached over and took my hand in his, he asked me to come with him for a moment. So we got out together and walked the halls, he stopped at the door to one of the rooms and said he had someone he wanted me to meet.
As we stepped into the room I saw a typical teen sitting on the edge of the bed rough housing with his little brother, laughing with delight. The Detroit Tigers baseball game was playing in the background. It was a family…and a happy Sunday afternoon, much different from so many months ago when I had first met them all. I stayed for a few minutes and excused myself to return to work. The Grandfather walked out with me and asked if I would be able to return the next day, for he said he had one more thing he wanted to share with me before they left. I agreed and went back to work promising I would return the next day.
When I got there the following day, I never expected what happened. They all had a part of their traditional regalia on, and as a way of thanking me the grandfather (who I found out that day was a medicine man himself), honored me by bestowing me with a name. I was also now part of the family… he named me "Medicinewalker" telling me that it was for the fact I walked with the right medicine spiritually and physically in this world and beyond. I will never forget that day…that family…or the Elder that shared so many teachings with me. it was a true gift.
So when you read a name from history, or hear someone speak a name out loud, no matter what culture, race or religion, take a moment to understand that there is reason, respect, and above all else a story behind it. So with that said….Honor it no matter how strange you may think it is, for it was a gift that is as unique as the individual that carries it.
Mitakuye O'yasin
~ bear Medicinewalker