So I understand when people get upset, sad and angry when famous people die of an overdose and it is good that it also brings up discussion about the problem we face in the world of human kind that is faced every moment of every day… "ADDICTION" and it's been around for Ions!
Today I am talking about drugs or alcohol addictions… Soon as someone famous dies from an overdose, people start ranting and raging on social media and saying that the pharmaceutical companies should be sued for their production of drugs… that Doctors should be sued for the fact they prescribe the drugs. Typical rants you start to see soon as someone in the entertainment field dies from an overdose of something. Well those are rather blanket statements don't you think? Oh wait, don't crucify me yet for my words… take a moment and listen to what I am saying here.
First off the prescribed pain killers that are often referred to are very helpful to people when used in the correct and properly prescribed and maintained way. Don't judge unless you are walking in someone who needs these drugs for pain control that otherwise can not be controlled. Is it a perfect scenario for our bodies, no but neither is pain.
Now factor into it that yes physicians need to be watchful of whom, how and how many they are prescribing to their patients. There needs to be more accountability for patient care and awareness. But that can also trickle down to the pharmacies that are filling the scripts… what about a program that connects narcotics prescriptions to a national data base so they can see when a patient is double dipping on scripts or what I call doctor shopping for their medication habits. Yes these drugs are addictive that is why they are called "Controlled Substances" so perhaps the real issue here is they need to be better controlled.
Now factor in ALL the people that are around these famous people on a daily basis… someone is helping them get the drugs the alcohol… and no one sees a problem with how much they are taking, or how they are taking it? Seriously are people this deluded they can not see? No it is rather that they do not WANT to see the problem. Pretty much the same as every day folks…. It takes commitment to assist a person with an addiction, and believe me it is not an easy fix. It involves a lot of time and energy, not to mention we have to look at someone we love and say hey they are not perfect, again not an easy thing to do, so many turn a blind eye.
Now what about PERSONAL ACCOUNTABILLITY? At some point we have to be responsible for ourselves. You can not tell me that we do not know what we are doing at some point. That we do not know it is not a good thing at some level of our human self. You mean people can be smart enough to do what they do whether it is creating something such as music, or writing a novel etc., but not smart enough to understand that probably isn't a good thing you are doing drugs or drinking yourselves into oblivion, or both? Yeah no, at some level we know. But then it turns into what is called "ADDICTION" and that is a disease whether we want to believe it or not.
So some of you are thinking, yeah what do you know? Well have been there done that… seen friends and family struggle with it. Have seen some of them loose their business, their families, friends and some even their lives to it. I have helped many of them, and for some it worked and others it did not. Yet the bottom line here is it is not the drug companies fault for creating the drugs… it is not ALL physicians fault that these drugs are being abused, it is the people who illegally supply the drugs, the people who pamper and cater to the almighty $$$ whether it is the rich and famous or a business person who has the means to get what they want.
Ultimately it is about self responsibility… the almighty I AM.
As people we need to be able to raise our conscious level to understand that No One is perfect… and that being human means we WILL make mistakes, it's called Life. But we also need to at some point stop passing the buck and pointing fingers and take responsibility for ourselves and when help is needed, ask, give, recommend it… make others aware of it if you can not do it alone, and/or step up to the plate and tell someone they need help and do what it takes to try and help them get that assistance instead of sticking our heads in a hole in the sand.
For those of you that have taken it the step farther and sought help… I stand with you and say congratulations!
For those of you that struggle with it every breath of every day… I pray for you.
For those of you that want to go farther with it, work towards something… perhaps it's changing the laws so they are tougher, stronger and bring about the change you are looking for. Perhaps it's to go to school, get a degree so you can be a law maker, a physician, a counselor, a scientist that can help to create better pain killers that do not kill people… whatever it is… direct the energy into a positive place instead of playing the blame game.
For now I ask that we all can set aside those differences… and say a prayer for All that are struggling and need help with Addictions, All that are assisting those with addictions, and for all those effected by people with Addictions no matter what walk of life we All come from.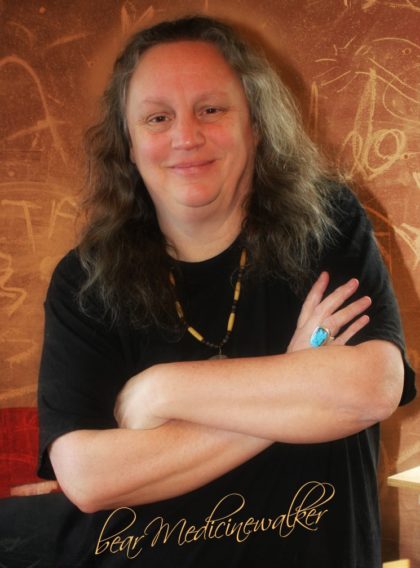 I am dedicated to Educating and sharing the lessons, teachings and culture I have been taught by my Elders and journey with the World. It is not enough merely to learn the ways of our Elders. We must honor those traditions by sharing and educating the World. Inspiring others …Inspiring our Youth. Through the Music… the Arts…the stories…
Blessings to you All,
bear Medicinewalker
A Prayer said for All of Mr. Tom Petty's family and friends at this time. May you all find strength and feel Gods' Grace in the days ahead. And for You Mr.Petty… thank you for sharing your life journey and music with all of us.
I'm passing sleeping cities
Fading by degrees
Not believing all I see to be so
I'm flyin' over backyards
Country homes and ranches
Watching life between the branches below
And it's hard to say
Who you are these days
But you run on anyway
Don't you baby?
You keep running for another place
To find that saving grace
I'm moving on alone
Over ground that no one owns
Past statues that atone for my sins
There's a guard on every door
And a drink on every floor
Overflowing with a thousand amens
And it's hard to say
Who you are these days
But you run on anyway
Don't you baby?
You keep running for another place
To find that saving grace
Don't you baby?
You're rolling up the carpet
Of your father's two-room mansion
No headroom for expansion no more
And there's a corner of the floor
They're telling you is yours
You're confident but not really sure
And it's hard to say
Who you are these days
But you run on anyway
Don't you baby?
You keep running for another place
To find that saving grace
Don't you baby?
Songwriters: TOM PETTY
© Warner/Chappell Music, Inc.
For non-commercial use only.