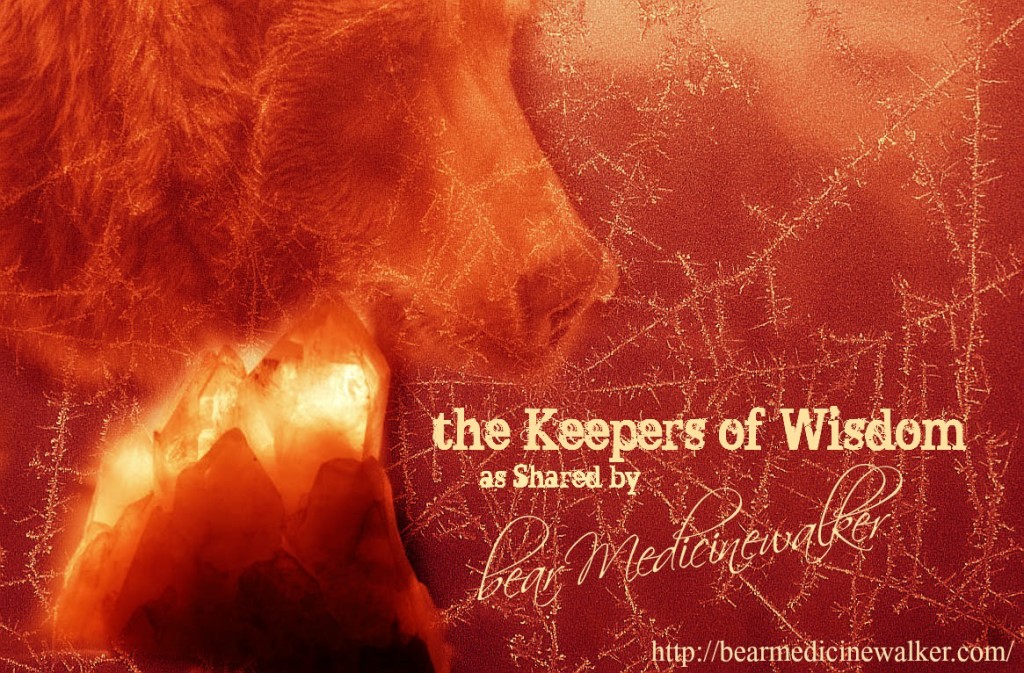 Rocks… we use them to build houses, structures that reach the sky. They serve as containers for rivers and lakes, they have been used to create weapons, and tools… they come in all kinds of shapes and colors, and sizes. Some are clear, some are dense… but they all have been around longer than any of us put together. They are the Keepers of Wisdom; they are referred to as the Ancient Ones. I will share a little of the stories I have been told with you.
The People have told a story that in the beginning everything was in the mind of Creator. All things which were to be existed only as spirit. The spirits moved about in space seeking a place that they would be able to manifest and become. They traveled until they reached father Sun, but that was not a good place for Creation to begin for the heat was too extreme. Finally they settled on earth, and the Great Mother welcomed them. She was without life, but covered with the great waters. There was at that time no dry land for life to begin upon. Soon out of the waters came a great burning rock…it rose so high that it created dry lands as far as the eyes could behold. Then the clouds appeared and formed from the rivers and streams that were created. Then life on earth began. This is why the Rock people …Grandfather and Grandmother Rocks' are to be given so much respect, for they are the oldest ones. The Keepers of the Wisdom's of our time here, back to our very beginnings they take us. We respect them within the sweat lodges, as when they are placed there and water hits their surface, steam rises again recreating that moment of Creation.
Crystals have always seemed magical to me, they are used for gazing, they can hold energy and power, they have been used by Seers and mystics, Shaman and Medicine people of all races and religions for as long as time can be recorded. I will share with you now the "Legend of the Crystals"
In times long past, we lived in harmony with Nature. We spoke the same language as the four-legged and the plant people. We hunted for food only to satisfy our hunger and needs, always offering prayer of thanks for what was had taken from Nature. As time went on, we lost this innocence, harmony and balance. We became greedy and took more then we needed. Forgetting prayers of gratitude, we began killing animals, and each other, for sport and pleasure.
The Bear Clan, Chief among the animals, called a meeting of all the animals. They decided that something had to be done. The bears suggested that they shoot back when humans shot at them, but the bow and arrow required too great a sacrifice, for one bear would have to give up his life so that his sinew could be used for the bow string. The bear's claws were too long for shooting a bow anyway, and would become entangled on the string.
The deer Clan offered another method of dealing with the problem. One of their clan said, "We will bring disease into the world. Each of us will be responsible for a different illness. When humans live out of balance with nature, when they forgotten give thanks for their food, they will get sick." and in fact the deer did involve rheumatism and arthritis; each animal then decided to invoke a different disease.
The Plant Clan was more sympathetic and felt that this was too harsh a punishment, so they volunteered their help. They said that for every disease a human gets, one of them would be present to cure it. That way, if people used their intelligence they would be able to cure their ailments and regain their balance.
All of nature agreed to this strategy, One plant in particular spoke out. This was Tobacco, the chief of the plants. He said, "I will be the sacred herb. I will not cure any specific disease, but I will help people return to the scared way of life, provided I am smoked or offered with prayers and ceremony .But if I am misused, if I am merely smoked for pleasure, I will cause cancer, the worst disease of all."
The close friends of the Plant Clan, the Rock Clan and the Mineral Clan, agreed to help. Each mineral would have a spiritual power, a subtle vibration that could be used to regain perfect health. The Ruby, worn as an amulet, would heal the heart; the emerald would heal the liver and eyes, and so on.
The chief of the mineral tribe, Quartz Crystal, was clear, like the light of creation itself. Quartz put his arms around his brother Tobacco and said, "I will be the scared mineral. I will heal the mind. I will help human beings see the origin of disease. I will help to bring wisdom and clarity in dreams. And I will record their spiritual history, including our meeting today, so that in the future, if humans gaze into me, they may see their origin and the way of harmony." And so it is today.
I call to the sacred winds…to carry my words
To the Grandmothers and Grandfathers of the North, the south, the east, the west, Above …below and within…
I call to the sacred winds to carry my words to the Winged ones…the Four Leggeds…the Plant People…the Crystal Keepers, the Thunder Beings, the Angelic Realm…Mother Mary and Magdalene…my Brother Christ and all the nations that love us.
I thank you for all the many blessings that you have shared with us today and beyond and I ask that you hear our prayers whether spoken our held silently within our hearts.
Today I ask that you hear our prayers as we stand humbly before you, small and human.
Help us to remember we are all but a tiny part of a great universe, that we are all connected as one…
Bring us the strength we need to walk our paths without ego or judgment…
Allow our hearts to hear what our ears are missing
Teach us how to allow forgiveness for others and ourselves
Fill our being with the unconditional love that you so freely offer all.
I call that we be reminded we are all no better than or less than one another.
Guide us through our days, to help us with our humanness…that we learn to reconnect with others in a gentle and positive way. Offering smiles when they are needed without thought, shoulders or ears to help ease another…and words that will uplift or soothe.
Keep our children safe and strong in this troubled world… I ask that on this day and days to come…guidance is shared with our children to help them as they walk their paths. Help open their eyes so they can learn and see the right way of things, teach them to respect all life no matter how small, open their ears and minds so that they may understand things that are being taught to them in a good and gentle manner…open their hearts so that when the harshness of the world falls at their feet, they can cope and handle it with compassion and understanding.
I ask that today and all days ahead, that the Ancient Ones continue to share their knowledge with us, that they are able to continue to support us and remind us we are all related. That we honor them as the Great Wisdom Keepers that they are, that the lessons they have shared do not fall upon deaf ears, but rather help us to build the foundations to a better way of life, one that may honor all life as Sacred.
I thank all those who have walked with us and answer our calls…this day and in days to come…and honor you
… Aho
So my wish to you all today is when you are out and about. Look around you and see the Rock People…the Crystal keepers and as they shine at us with the warmth of Father Sun, or sparkle from beneath the rivers and waters of the Great Mother, we are reminded of how important they are, and that like each one of them, we are different …unique and all serve a purpose for the foundation of Life… life as we share it today.
I send you all peace…today… and may the love that is in my heart reach and find you all today, and fill your life with blessings.
Mitakuye O'yasin
~ bear Medicinewalker
#theSacredHoopProject2016
"Earth Dance" by Chris Ferree available at http://chrisferree.com/