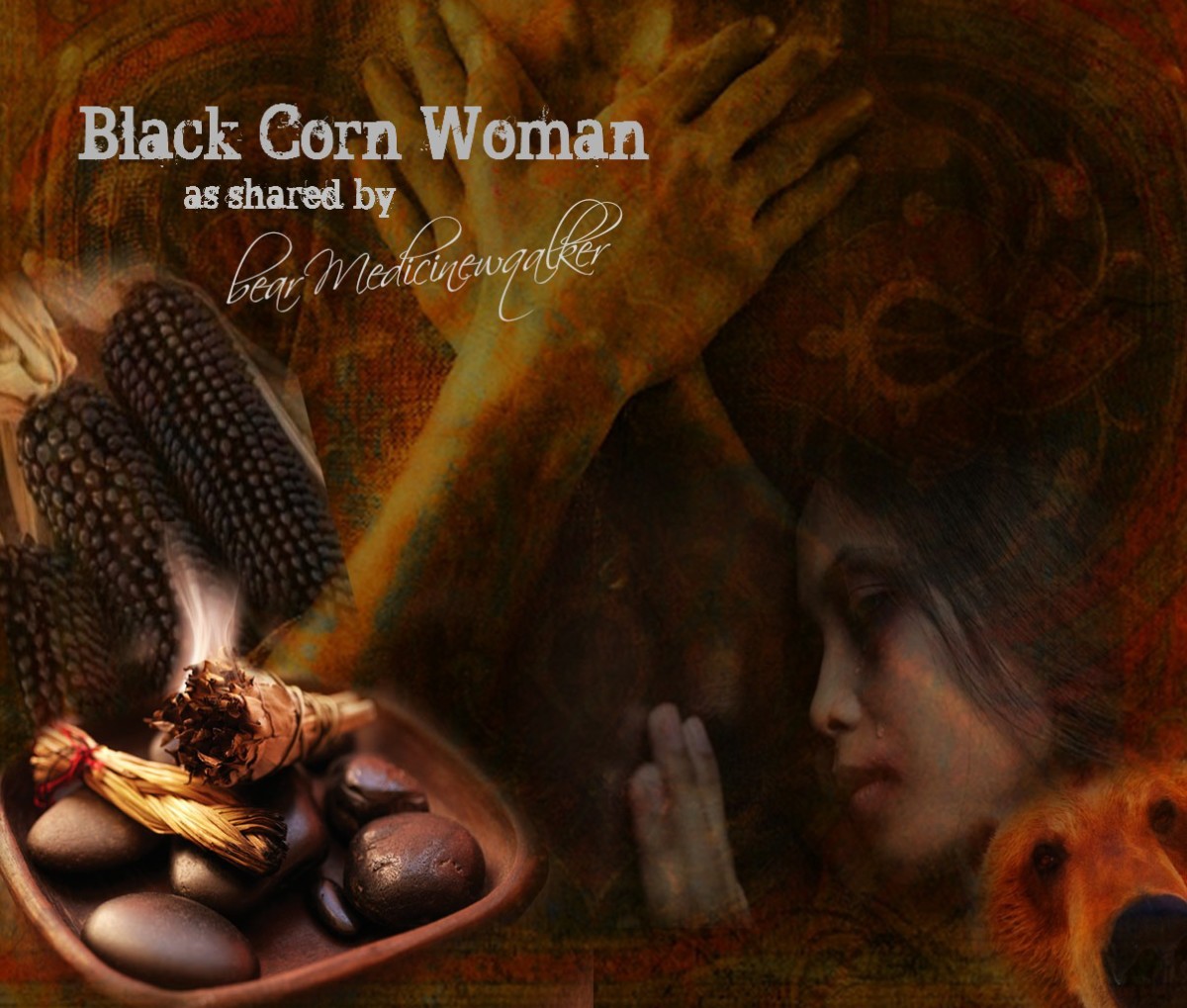 There is so much violence in the world that often people find themselves caught up in it and in this process they loose themselves. By that I mean they get lost deep inside, pushed their by fear and loss of self worth. The lesson of self Love is a tough one for victims of abuse, assault but part of the process and in order to allow healing to begin, we often have to release and find self acceptance again. To learn to Love self, one of the hardest lessons many of us have to learn.
The following is a story I was told long ago, and the lesson within is strong. I hope that all those that need to read and understand the lesson do, and understand there is no judgement involved in our own lives that is harsher than self judgement. Love begins with Self….
There once was a woman called Black Corn. She lived in a village that was surrounded by amazing beauty. It was plain to see everywhere, in the forest, in the plains, in the sky above and upon the earth below. Black Corn herself was extremely tall, in fact she was taller than all of the other women of her village, and truth be told she was taller than most of the men as well. She was very strong yet fair to see. however within her was hidden deeper darker emotions that were filled with discontent, doubt, anger and more than is healthy for people to live with day to day.
Black Corn was very unhappy. Her heart was filled with love yet could not seem to find the one to give it to. All she wanted was to love someone and have someone love her in return. She loved her family and people of the village dearly and did all she could for them, even to the point of sacrificing her own wants to help others. Many Gifts she had been given by Creator, but could not seem to find them when she needed them the most. Others laughed at her for things she did not understand and in turn began believing in what was being said about her. At first with doubt, then willingly that the lies and the actions were deserved.
When she looked upon her reflection in the surface of the water, she would think about all the negatives that had been spoken to her, "you are too direct, too tall, too strong, you show too much passion, too much love, too much everything, and no one wants what you have to give!" Yet the love she held inside for all the People was full to bursting within her heart and all she wanted was someone who would accept her love, for the People to accept her and love her for who she was.
Despair and heartache filled her until one day she awoke as if in a dream, "Why is it this way? What did I do that was so awful that I should be treated in this manner?" She sat looking deep inside for an answer to these questions. She went beyond all of the hurt, all of the pain that had been put upon her, past the men who had used her without her consent breaking her spirit. So many judgments had been passed on her but none so harsh as what she had passed upon herself. The deeper she looked, the uglier it became until it rose to rage! But soon she realized that this too was illusion. The anger, the rage was all self deception, a shield she had put in place in order to protect herself from what laid within.
Soon she decided that no longer would she hide behind the rage and the sorrow that she had held onto over the years and it washed over her like a tidal wave as she stood defenseless in its path. She no longer had the strength to fight it, no shield to protect her any longer. Out she ran into the forest, hearing the tiny voice inside screaming in agony, dying, dying, dying, wanting to scream out loud, knowing that all she had ever felt she was that she was slowly dying a painful death. Finally she cried out clutching at the pain in her chest, willing herself to slip away. She screamed out in pain and agony, begging for Creator to take her away from this pain.
"Creator, please I can not bear this life, this pain any more for it is simply too much, Please, please, take me home, please let me have peace!" And when she had finished crying out these words and prayers all of the ugliness that was inside her had been given voice, a sound so awful to hear that not even the creatures made a sound out of respect for her pain. She laid down on the forest floor allowing it to wrap around her body as her very soul felt as though it had been ripped open lying before the Creator. It was at that moment she finally saw the truth.
It began when she was 7 summers old; she would go into the forest to play and one day a strange man came upon her and began to speak with her. His words were intriguing and he spoke of grown-up things that she liked to hear about. Eventually this stranger seduced her as a child, and as a child, not knowing any better, had allowed it. Many years would pass before Black Corn realized what had been done to her, and when she did realize, she issued a judgment so severe upon herself that she began to believe that she was unworthy of love. She lost all respect for herself and, indeed, this is what she projected unknowingly to everyone she came into contact with. The voices of the others that would taunt her were really reflections of her own voice within that she could not, until now, listen to.
In that moment laying on the forest floor, she began to see with clarity what was that made the People treat her as they were, and with that knowing, she began to cry, heart wrenching cries that tore at the very fabric of her soul and thus began the cleansing process from within. She found that while she had forgiven that strange man his trespass against her, placing blame on herself and creating in a fantasy in her mind that she had been the victim, all the while feeling the guilt of the participant. There had been one other who had used her in this fashion, a relative, who did not know of the first stranger. But by then, the damage to her soul had been done and, while not realizing why it was so, she allowed herself to be degraded even more by this second man. After that, there was no room for self-respect or self love, feeling as she did that she was unworthy for the things she had done.
After the sobbing had subsided, Black Corn began to feel differently, having accepted everything that was ugly inside of her, she began to heal. Finally, after all of these years it was released. It took a long time, but finally she was able to understand and began to love herself as well as forgive those who took her unfairly and in bad faith, took her innocence and made something ugly out of it. With all that was released there was now room for love to enter and fill her soul. All of the love she wanted to give the People was the love that she had been denying herself. Once she could learn to love herself and accept herself, she could also love the People much more than she ever thought possible, and the People rejoiced! For they had always loved Black Corn, but because she did not love herself she could not see this and probably never would have if she had not asked herself "why am I being treated this way?"
The answer was within her all the time….Love…Love of Self. This was Creator's answer to her prayers.
I offer prayer for all those that are victims of abuse and violence, that they too shall find Love in the souls for themselves and that the shame, the unforgiving emotions that they place upon themselves are released and replaced with the knowing that they too are loved and worthy of love. Enabling them to move to more positive places within their lives.
Aho
Mitakuye Oyasin
~ bear Medicinewalker
Charlie Wayne "In the Company of Angels" available at http://www.cdbaby.com/group/flutes