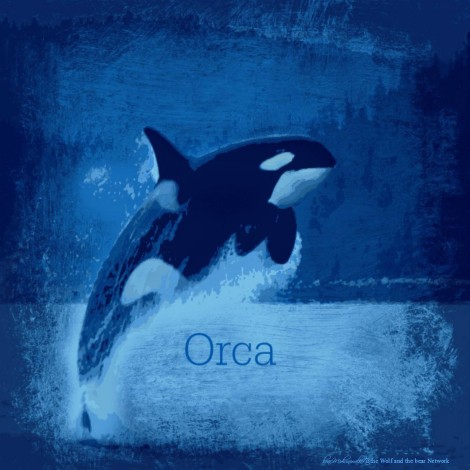 The Ancient Ones are calling out for us to look within, to see truths and not lie to oneself… for we are responsible for how we act, think and behave. And although it is great to say we will look in the reflection of self to see truths of how we walk, it is quite another thing to be brutally honest about it and accept our short comings and how they effect others within and around our lives.
So it is time to strip away the falsehoods we put up, take the blinders off and be honest with ourselves. We need this action in order to move ahead and release those negative tendencies and move into a more positive way of life. It is an intense emotional time right now, with the Full Blood Moon preparing to rise in the skies on September 28, 2015, so allow the emotions to flow and cleanse the soul, strengthen your hoops by embracing changes that will help us to be better to others and mostly to be better to ourselves.
Orca
Orca is one of the most revered of the ancient Ones who swim and protect our Waters. Their songs speak to us of healing from deep within our souls. Listen as they begin calling in positive vibrations of thought and sound. Orca's guide us through the depths of our own emotions allowing us to explore and mend self more effortlessly by moving with the waves of life, rather than against. They help us access the Ancestor's knowledge that is buried deep within our own DNA that is the key to all that is Sacred.
We are being called to search our souls, for looking inward is the only way that we can move forward in positive motions at this time. Orca will help us to understand self and give us a clear view to set our intention of what is needed in the situation for the highest good.
Orca will guide and help us to confront our emotions that are out of control by making connections that are needed between our conscious and subconscious to bring about the balance we need in our Sacred Hoops.
Mitakuye O'yasin
~ bear Medicinewalker
Orca Song
#bearMedicinewalker #theSacredHoopProject #MitakuyeOyasinDeck #theWolfandthebearNetwork