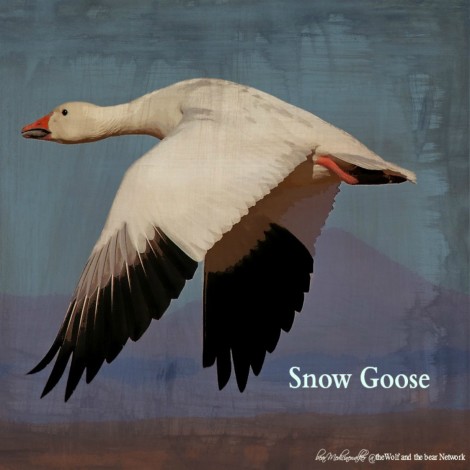 As Fall begins to settle into its cycle sharing with us that Winter is soon approaching, it reminds us to honor the motions we must go through for that preparation. Our Sacred Hoops need to stay aligned, and we must not forget the traditions, the ceremony, the rituals of everything that we hold Sacred in our lives as we move into a time of Dreams. A period of creativity and thoughtfulness, a time when we share stories and create new ones in order to teach what we have been shown, The old ways that have been handed down from generation to generation assisting us to move in positives in a forward motion on our paths.
Snow Goose
Snow Goose teaches us to respect traditions; for the past indeed holds keys to our futures it reminds us of what is important so that our own Sacred Hoops remain healthy and balanced. teaching us it is a cautious time with the energy shifts that are occurring, to be making any large changes in our lives with out great thought and preparations.
Snow Goose also teaches us about asking for help and support, working together with others within your circle to accomplish more than what could be done alone. Working alongside another or in a group teaches us the benefits of cooperation and belonging. Snow Goose shares the talent of communication through writing and storytelling. Stay open to new ideas, to spiritual quests, and traveling just be prepared before you do so.
It's time to move forward with your life. Move with care and enjoy. Be flexible. Let go of the old allowing yourself to move into positives with an ease of motion.
Mitakuye O'yasin
~ bear Medicinewalker
Snow Falling In Silence by Bernhard Wolfsheart Weilguni and available at http://wolfsheart.eu/start/
#bearMedicinewalker #theSacredHoopProject #MitakuyeOyasinDeck #theWolfandthebearNetwork