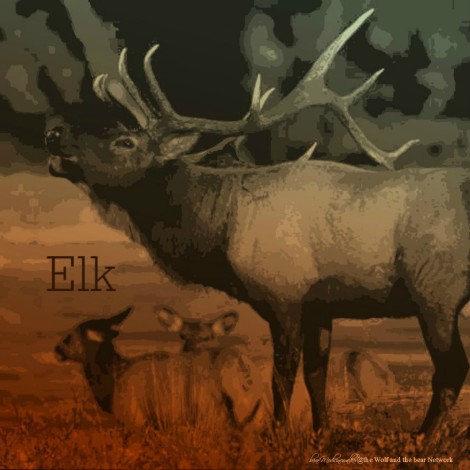 So as I sat outside and Father Sun rose to his glory….I kept hearing the song Wade in the Water…You don't believe I've been redeemed,
Wade in the water… by Eva Cassidy… and I thought yup I get it…and then the card that shows up today, the Elk!
So lets embrace a little Faith today in ourselves, in the ability of positives to rise to the surface and outshine the negativity of the world, even if that simply happens in our own little corner of it… and have a LITTLE FAITH! Creator hears us, and the Ancestors and "Spirit" are assisting us as we walk this crazy world we live in. Sure there will be ups and downs, the terrain of life is not easy, not simple, not plain… it is exciting and bold, it is brash and wild, it is beautiful in all it brings to our doors for us to experience…
Elk brings in the energy that is needed to slow down and pace ourselves. It's all about seeing the goal and reaching it without killing ourselves and depleting our energy in the process. Elk helps us to understand that we do not have to do it alone and that companionship and group support are available we just have to ask.
Elk signifies abundance and is a sign that all we need will be provided for. To remember that we do not need to rush, for sometimes the reward is in the journey itself. .
Elk symbolizes strength and endurance. It teaches us to spend more time with our families and friends. Elk are also very seldom alone, preferring to live in large herds, yet knowing when they need to have some personal space. They are very well prepared to take on a challenge, they can fight passionately about what is important to them, sometimes can be unpredictable being passive one second and aggressive the next, it is their nature.
Believe in yourself…Empower Yourself…Connect with those you love and hold a good sense of Community… and your goals will be met with positive outcome.
Have an Amazing day wading in the life experiences that are thrown in front of you today!
Mitakuye O'yasin
~ bear Medicinewalker
Eva Cassidy – Wade in the Water
© BMG RIGHTS MANAGEMENT US, LLC
For non-commercial use only.
#bearMedicinewalker #theSacredHoopProject #MitakuyeOyasinDeck #theWolfandthebearNetwork