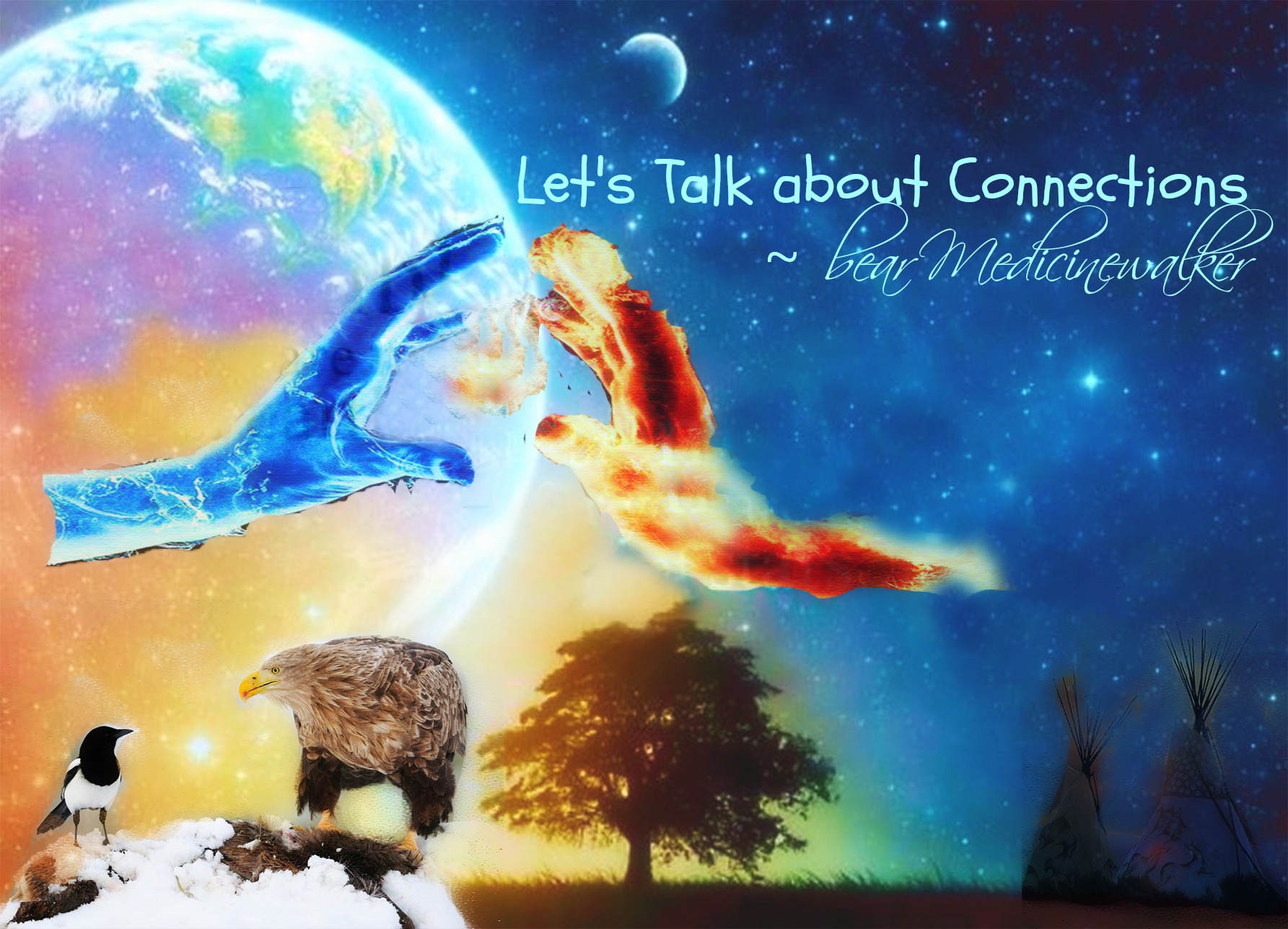 Connections I want to take some time this morning and speak of Connections.
Everything that is…is somehow at some point connected. And often many of us take that for granted. I know I have ni the past. And when I come to realize that I am …I slow down and stop to stand still for a moment and think about how connected everything in life is.
Elementals… Water-Air- Earth one can't exist without the other…all powerful in their own right, and all part of us in some rhyme or reason.
What is a connection? Well defined in the dictionary it is;
Definition of CONNECTION
1: the act of connecting : the state of being connected: as
a : causal or logical relation or sequence c : a relation of personal intimacy (as of family ties)
d : coherence, continuity
2a : something that connects : link
b : a means of communication or transport
3: a person connected with another especially by marriage, kinship, or common interest
4: a political, social, professional, or commercial relationship: as
a : position, job
b : an arrangement to execute orders or advance interests of another
c : a source of contraband (as illegal drugs)
5: a set of persons associated together: as
a : denomination
b : clan
Wow connections… I would say that defines a big part of us as Humans, whether we accept it or not…we are all very connected.
Now when we look at being connected we have to think also how we interact with everything in our world. We have Air…we breathe air… air is life for many things here. Wouldn't be here if we couldn't breathe the air. Yet stop and think how different our air smells between a city…and a country spot. We have all been there; we have all heard the remark of wow… the air smells so fresh. The smell of fresh grass in a meadow, water running in a River, Birds that sing their cries in the trees,,, all carried to us through the air…it sustains life.
Earth is what we walk on…run on… drive on…work on… it grows our food, it changes and grows, evolves with us. Through all our changes …good or bad. the earth keeps up right along with us. Many times we are destructive of her, yet I wonder if we took a moment or two to remember who She is…if we would do some of the things we do to her? Yet she continues to sustain life. Water makes up the majority of our bodies as humans. It is the liquid that descends from the clouds as rain, forms streams, lakes, and seas, and is a major constituent of all living matter . It also sustains life… We need to remember even after we forget, to honor these elementals as Sacred…for without them we would not be. Because of them we are all connected.
I call to the sacred winds…to carry my words
To the Grandmothers and Grandfathers of the North, the south, the east, the west, Above …below and within…
I call to the sacred winds to carry my words to the Winged ones…the Four Leggeds…the Plant People…the Crystal Keepers, the Thunder Beings, the Angelic Realm…Mother Mary and Magdalene…my Brother Christ and all the nations that love us.
I thank you for all the many blessings that you have shared with us today and beyond and I ask that you hear our prayers whether spoken our held silently within our hearts.
Today I ask that you hear our prayers as we stand humbly before you, small and human.
Help us to remember we are all but a tiny part of a great universe, that we are all connected as one…
Bring us the strength we need to walk our paths without ego or judgment…
Allow our hearts to hear what our ears are missing
Teach us how to allow forgiveness for others and ourselves
Fill our being with the unconditional love that you so freely offer all.
I call that we be reminded we are all no better than or less than one another.
Guide us through our days, to help us with our humanness…that we learn to reconnect with others in a gentle and positive way. Offering smiles when they are needed without thought, shoulders or ears to help ease another…and words that will uplift or soothe.
Keep our children safe and strong in this troubled world… I ask that on this day and days to come…guidance is shared with our children to help them as they walk their paths. Help open their eyes so they can learn and see the right way of things, teach them to respect all life no matter how small, open their ears and minds so that they may understand things that are being taught to them in a good and gentle manner…open their hearts so that when the harshness of the world falls at their feet, they can cope and handle it with compassion and understanding.
I ask that today and all days ahead, that we honor all connections as Sacred. That we share respect with all that is, no matter if we are aware of the impact of those connections or not. That we are guided to care for these elementals, by replenishing, replanting, using only what is needed. And remembering that they are each sacred gifts that we depend on for life itself. They connect us all to each other.
I thank all those who have walked with us and answer our calls…this day and in days to come…and honor you …AHO
So my wish to you all today is that you look around you and see how many gifts that we have received from the elementals. The air we breathe, the beverages we drink, the foods we eat, the paper we write on, the electricity that powers our tools… and that we give back. We plant seeds of awareness to others as gentle reminders of what a great gift we have been given and share in. And that through that our connections with each other, that awareness becomes stronger. That we care for all life in a gentle and giving way, returning and continuing the cycle of giving and replenishing.
May your day be bright and filled with faith. For it is way past time we remember we are all related.
Mig'wetch
~bear Medicinewalker