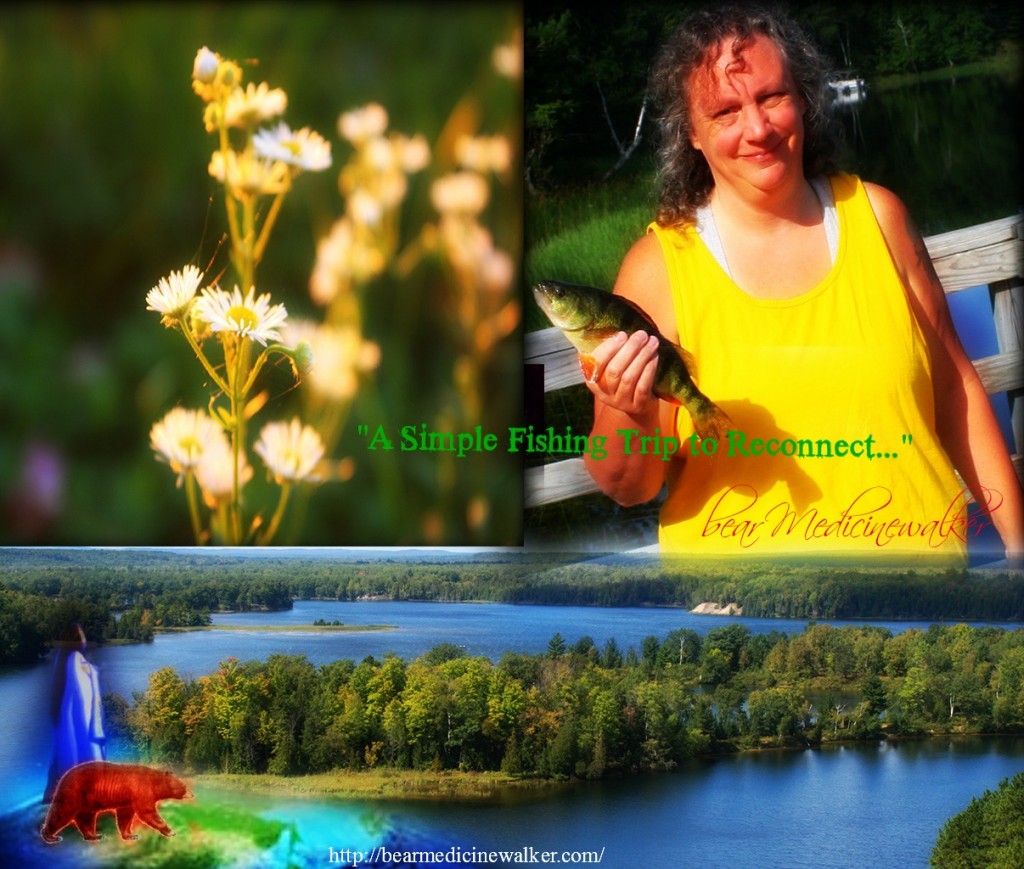 Sometimes…life is about the everyday things that happen to us…and we only realize that when we stop and take a moment to breathe it all in…
With the cool air of the Fall Winds knocking on our doors, I decided to head to the river to reconnect and ground with Creator and All that is Sacred. Needing some human solitude and taking the time to watch the hawks and eagles play on the air currents above me as I fished below them on the Ausable River.
Tossing my fishing poles and tackle into the back of the truck, I started the engine. Now mind you it is running, but sounds like a stock car at a NASCAR race, so sneaking off or in anywhere is not an easy thing to accomplish by any means, but to the river I headed determined to get even closer to life in a simple way.
Arriving at the river out at one of the dams, all one has to do is take a deep breath in to understand what I mean about the reconnection to All that is Sacred. The smell is fresh, it is water, it is air, it is the grandmother and grandfather trees that tower over the rivers edge from long ago, it is the sweetgrass along the edges of those very trees and water, it is the warmth of the sun on your face that sets all your nerve endings tingling and yelling how good it is to be alive.
Grabbing the gear I set out to the rivers edge only to realize today I was not to be alone. There was two older gentlemen fishing at one end of the dock and at the boat launch a short distance away was a gal with her boyfriend that were around the same age as I am. They all looked up as I walked into the shared area and I nodded and waved in acknowledgement. I had hopes for a quiet morning so I set about fiddling with my fishing poles. However Creator had other things in mind.
Not five minutes after I put my line into the water, one of the older gentlemen decided to walk over to where I was. I looked up and smiled, but said nothing. Soon he was telling me about his friend that he was with, his best friend in life. They had been friends since they were both 7 years old and had lived through everything life had to throw at them all these years. "More like brothers," he said to me, "been coming up this way for over 70 years just to reset our clocks." He then reached in his pocket and pulled out his new dang gummed new fangled phone (which I totally share his sentiments at some of the technology out there) to show me some of his photos of his friends and family as they have fished this year and what they had all caught. Quickly reminding me it is all in the angle you take the picture to make the fish look bigger.
They left gathering their things shortly after that, but before going up the path toward their truck, they wished me a good day looking at each other with a big grin and saying how important it was for them to be here and reconnect with nature, to take time to remember what is important in life. After they left I settled back in to being in my own little world… which lasted all of three seconds.
"Omg, I got one… I got one…" the woman just a short distance away yelled, "I need help getting the hook out." Her boyfriend down a little further yelled back at her saying his pliers were in the truck. I grabbed my hemostats and walked over and handed them to her. She thanked me and I once again went about my business. Next thing I know her boyfriend walks over and starts talking all things fishing and hunting with me. He is a big burly gentle guy…with a quick smile and a big heart. His girlfriend was laughing and told me she hadn't been fishing in years. They were having fun… catching sunfish and some bass but hey had to leave to head back down state. They said how they didn't want to leave the area to go back to work and life, how refreshing it was to just be in that moment with nature. Not long after, they to head out thanking me, for what I am not sure, but waving as they headed out. Being invisible for a bear is sometimes hard thing to do, but that is okay for everything for a reason. So I was then left to my own human devices to fish and soak in all that is around me for the next few hours.
A storm was heading in, I could both smell and feel it so I packed up to head back to my little lake. As I started the truck I was thinking to myself that it would be so great to be able to just step through time to younger years that I spent here in the woods at the river, listening to Billy Joel, rod Stewart, Aretha some Motown and oh yes a little Doobie Brothers on the truck radio. So I turned the radio on, and low and behold I got just that… not sure how that worked but apparently we have a request line directly to those that are in the know.
So I stepped through time with a little help from above and drove the short 15 miles back to my home. Watching out the windows everything seemed brighter more colorful, the wildflowers on the side of the road were gently rocking in the breeze to the music as if saying all is good bear all is good. As I took a turn I could smell the sweetgrass, the incoming rain and the cedar trees as they waved as I drove by. Childhood memories, people who have walked through my life, events of my life all played as a movie in my minds thoughts. Reconnecting me the entire time to what is important.
Arriving back at the house the rain began to fall…I looked back up at the sky and thanked the Creator for all that is Sacred, for the stories that were shared with me that day and for guiding me to taking the time to remember.
So my wish for you all, is to take time from your busy lives to reconnect with life, each other and to All that is Sacred. For it is what is truly important.
Blessings,
bear Medicinewalker