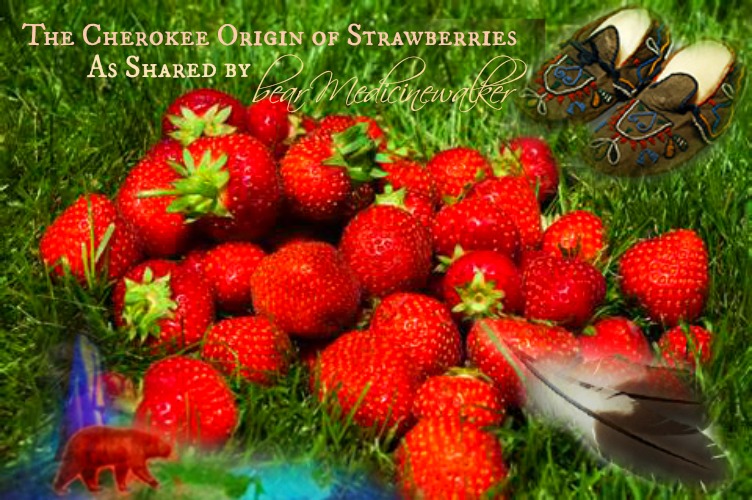 When the first man (a s ga ya) was created and a mate was shared with him, they lived together enjoying life and content with each other. After many seasons they began to change and often argued with each other. Finally the woman (a ge ya) left her husband and began walking east towards the Sunland (Nundagunyi).
The man decided to follow her trail, but was sad and lonely for he could not catch up with his wife as she continued ahead on her journey, never looking back. After awhile, the Creator took pity on him asking if he perhaps had lost his anger for her. The man replied he had indeed lost his anger. to which the Creator then asked if he would like to have her back again in his life. The answer came back a positive yes.
Soon the Creator looking down upon the woman, caused a patch of the finest ripe huckleberries to spring up along the path in front of her, but she passed by without paying any attention. He sat and gently thought what might catch her eye and soon placed a bush of blackberries on her path, still no response. So Creator continued placing other fruits, and then trees that were covered with beautiful berries beside the path to catch her attention, and still nothing happened.
Then suddenly she saw in front of her a patch of large ripe strawberries, the first ever known or seen. She stooped to gather a few to eat, as she picked them she turned her face to the west, and at once the memory of her husband came back to her and she found herself unable to continue her journey without him. She sat down and the longer she sat there, the stronger the desire to return to her husband. Gathering a bunch of the finest red strawberries she headed back towards her home and her husband. She soon met him on the path and they were both overjoyed at finding one another, apologizing and hugging each other until they gathered their things and headed back home.
Blessings,
bear Medicinewalker
Mama's Love by Ryan Little Eagle