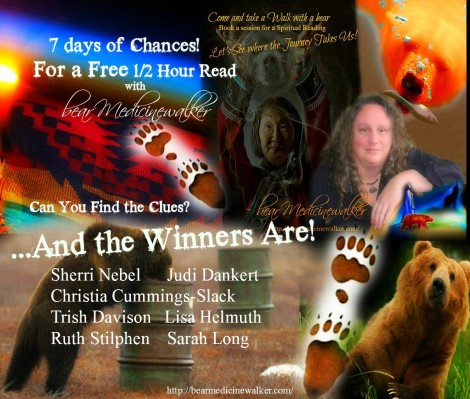 Congratulations to July Winners!
A few words for you All… My Truths
"Come and Explore a bear's World"
I am an Artisans, Healer, Messenger.
I am many things to many people.
But mostly…I am bear.
Guided to do work by the Creator with assistance from the
Grandmothers and Grandfathers.
I work with the Angels, and with all the Spirit Realms that love us.
It is powerful and humbling at the same time.
Going between whatever the spirit world guides me to do while reading and creating. It is an energy that can not be described. The messages that need to be seen and heard…are seen and heard.
Carving, sculpting, painting, photographing, working the leather, a look at the world through Native eyes…as the Creator guides me. Sharing traditional views with contemporary work… I will take you into a step through time.
Come and join us over on the Wolf and the bear Network and Almost Heaven Radio each week as knowledge, enlightenment, news, music, stories and more are offered as a way to bring the walls down and build an amazing community of like minded people.
Blessings,
bear Medicinewalker

Bear Medicinewalker


Create Your Badge
The Wolf and the bear


Promote Your Page Too